Directed by Matt Steinberg and Christopher Holt
Devised by the Outside Edge Company
Produced by Olivia Munk
VAULT Festival 2019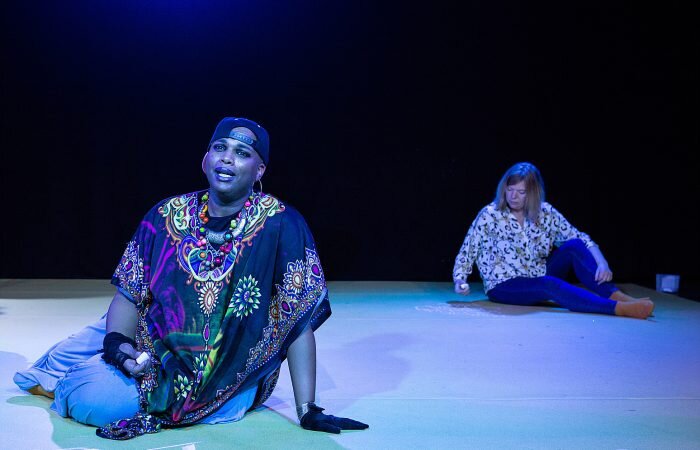 Poster design by Olivia Munk
Production Photos by Ali Wright Photography
From personal journeys of chaos come authentic stories of recovery.
I produced Check-In/Check-Out while working as Interim General Manager at Outside Edge in 2019.
Check-In/Check-Out was devised by the Outside Edge company of people in recovery from substance misuse. Plunging the audience into the heart of addiction, the production presents the performers' personal stories of substance misuse.
Co-facilitated by veteran West End performer Christopher Holt and Matt Steinberg, whose production of Tumulus won the Origins Award and sold out 2018's VAULT Festival, Check-In/Check-Out follows the structure of Alcoholics and Narcotics Anonymous' 12 Steps of Recovery.
The Evening Standard's VAULT Festival Top 12 Shows list
WhatsOnStage's VAULT Festival Top 10 Shows list
★★★★ 'The beautiful thing about this show is its freedom and ability to let go. Check In/Check Out re-introduces the power of theatre to the audience and reminds us of its brilliant therapeutic properties. It is clear from the beginning that the members of this company have all worked incredibly hard to be in the place they are now, and their commitment to the show is rife throughout. This show is not about getting the lines perfectly every time, or about Oscar winning performances, but rather, giving those in recovery a platform to have their voices heard.' Within Her Words
'My verdict? It was a unique experience, and one definitely worth having.' Mind the Blog
'These frank and honest testimonies serve to highlight the ways in which addiction can lead regular people down dark pathways.' A Younger Theatre
'I can only commend the company for creating this space in an industry which so often turns its back on numerous groups in society – or on the Outside Edge.' Theatre Weekly
'The power of art as a means of therapy is clearly evident here as we watch the performers physically draw the damage they have done to their bodies to then wipe it all away; symbolic of their twelve-steps to recovery.' Spy in the Stalls
'The stories are intensely personal and interesting especially in their refusal to dictate or moralise. They feature the moments of humour and elation as well as those of despair, which makes the tone of the whole piece more human and kind' The Upcoming